Meet Our Donors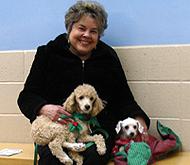 Joyce Madsen
My immediate family includes 6 members — and five of them walk on four legs. Needless to say, I treasure my five dogs and the love and joy they bring to my life. My special needs puppy mill survivor definitely owes his life to WHS's belief that the life of every animal — even a handicapped one — is precious. During the 22 years in which my late husband and I have been involved with WHS, I've seen the positive impact their programs have had on animals, people, and the entire community. The progress has been remarkable, and I want to do my small part to make that it continues into the future.
It's not that hard to do! Proactive estate planning gives YOU the option of ensuring that your priorities are honored. Even the small, almost effortless step of listing the Wisconsin Humane Society as a beneficiary on investments, IRA's, 401(k)'s, etc., is a step in the right direction.
If animals have always been an important part of your life, too, is there any better legacy to leave than helping "to build a community where people value animals and treat them with respect and kindness"?