Meet Our Donors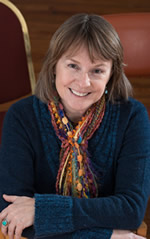 Joette Rockow
As I write this, I sit here with a cat on my lap, draped comfortably (for her) over one of my arms. I have learned to type one-handed style with great efficiency, not for the challenge of it, but out of necessity. There is also a cat on the couch and another on my bed. The people in my neighborhood call me when they find a stray cat or dog or when they find an injured crow or squirrel. I wouldn't go so far as to say that animals are my life; that would suggest that I don't maintain a healthy balance. However, caring for and helping animals is certainly a way of life for me. Sometimes people say, "Joette, you can't save 'em all." I say, that's true. But you can help the one that's right in front of you. So I take them on one at a time.
That's much like what the Wisconsin Humane Society (WHS) does in its mission to help animals in need, educate the public, promote animal welfare, and change the way people view and treat animals in society. WHS takes animals on-pets and wildlife-as they come, one at a time, but at a far greater volume than individuals can do alone. That's why I am a volunteer and donor to WHS. I began with fundraising for Wisconsin Human Society in about 2007, helping to organize the Paws & Claws Gala, developing plans and coordinating the first and second years of Feasting for Fido, and offering my support in a variety of ways. I also made a very important decision to include the WHS as a beneficiary of my estate. Since I don't have children, nor do I have a large extended family, I knew I needed a will that made sure that if something happens to me, my estate goes somewhere I will feel at peace about. Since I love animals so much, I just knew in my heart that I wanted a portion of my estate to go to Wisconsin Humane Society.
I highly encourage others to consider leaving a portion of their estate to the WHS. Animals give so much to us. Unconditional love. Comfort and laughter. They teach us the ability to live in the moment. How we relate to those with little or no voice is a true window into the soul of our society. That's why I support WHS, not only with my time and abilities, but with monetary support, now and for the future.