Meet Our Donors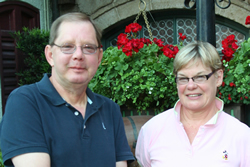 Nancy Behrens & LeRoy Mueller, Jr.
We have always supported Wisconsin Humane Society; however after we adopted Aggie (aka Wendy) in October of 2007 our lives changed. We can't begin to tell you how much love, joy and comfort she has brought to our lives. We saw firsthand the care and training that is given by the WHS staff and volunteers to all the animals.
Aggie has gone on to become a Therapy Dog and has taken part in WHS's Read to Rover Program- we are so blessed to have her, that we feel we need to give something back.
In 2008, when my mom passed away she had included Wisconsin Humane Society in her will; that gave us pause for thought. We had included details for the care of our animals if something happened to us; why not include care for the animals and their caregivers at Wisconsin Humane Society.
We are happy to have included Wisconsin Humane Society in our estate plans and hope others will consider doing the same. All you have to do is take one look into the eyes of a homeless animal and you will be hooked.