Meet Our Donors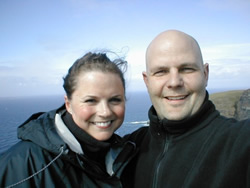 Brenda and Tony Garbo
Animals are patient and selfless, dependable and loyal. These are the qualities we have discovered through our love of animals. These same qualities are found though the great work of the volunteers and staff at the Wisconsin Humane Society.
We became involved with the organization when we enrolled our first dog, into the Canine Good Citizen Course. Our beloved friend Comet earned her Canine Good Citizen Certificate, which inspired us to participate in the Visiting Companion program at a local nursing home. Comet delivered instant joy to those who visited with her and she became a favorite for many; many who just wanted to be loved and feel the love from another.
When our beloved Comet passed away, we searched for an everlasting tribute to honor her memory. We selected a niche in Lorraine's Garden located at WHS's Milwaukee Campus. We were grateful to support an organization that positively affects so many while allowing us to pay tribute to our sweet girl.
We have since welcomed Comet II to our family and he has graduated from various puppy classes. Through the years, WHS has not only been part of our animal's lives but our lives as well.
Through their love and compassion for animals, WHS fills an important role in our community. To ensure that WHS will continue to thrive for future generations, we have chosen to include them in our estate plans.
It gives us great joy to know that our gift will support such an important organization in our community. Please consider including the Wisconsin Humane Society in your estate plans.